Description
FSL-200 (Fail Safe Load)

EMP Hardened (When properly grounded)
The GetAway Power FSL (Fail Safe Load), is a truly unique, yet a highly recommended component for all alternate energy systems.
The FSL has been designed to address a problem that has destroyed hundreds of controllers, inverters, meters and even more recently lithium batteries; high voltage spikes, surges and over-voltage conditions.
The FSL is like no other surge protector on the market. Designed to be a stand alone, fully independent device that is capable of absorbing more than 4500 joules of surge with an ultra fast response time (less than 5ns) due to the use of both MOV's and TVS diodes in parallel. What this means in plain English is; it absorbs high voltage energy and it does it fast. The FSL takes on the spike, not your inverter!
In addition to the MOV's and TVS diodes, the unit also utilizes close proximity positive to negative terminals and bussing, which serves to shunt direct lighting strikes away from your other equipment. A very direct connection from the ground terminal of the FSL-200 to a copper ground rod is required to achieve useful protection from lighting.
Last, but not least, the FSL-200 contains an ultra-fast automatic PWM controller, which is used to energize the internal load resistors to help clamp sustained high voltage events. The response time of the comparator is less than 1us with a PWM controlled output that clamps the high voltage to a precise voltage limit. This clamping is available in four models; 16V, 32V, 62V and 89V. 200 watts of internal load is included with the FSL-200. External resistors may be added to increase the sustained clamping capability. The total clamping with optional external resistance is 10 amps and/or 900 watts of power.
The FSL-200 can also protect equipment from over-voltage events due to a lithium battery management system (BMS) opening the connection on the battery. A BMS protects the lithium battery from being overcharged by shutting off (opening) the positive connection but this may cause high voltages to develop on the positive buss and all equipment connected to it. The FSL-200 can be connected to the positive battery buss (or wire) to clamp this high voltage until the BMS re-enables the battery.
When connected to turbine/solar input lines, the FSL-200 requires no other connection to a battery; it is self-powered and draws approximately 1-5 milliamps quiescent.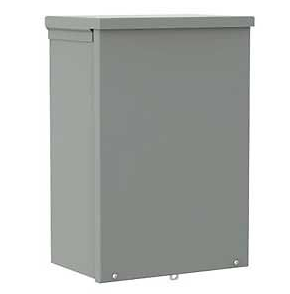 The FSL-200 is fully wrapped in metal enclosure, providing full EMP protection as long as the case is properly grounded via a 6-gauge or heavier copper ground wire direct to a copper ground rod(s) buried at least 6 feet into the soil. Metal (flex or rigid) conduit must be used or the EMP protection will be defeated. Note: The enclosure will not protect the contents from wind driven salt mist.
****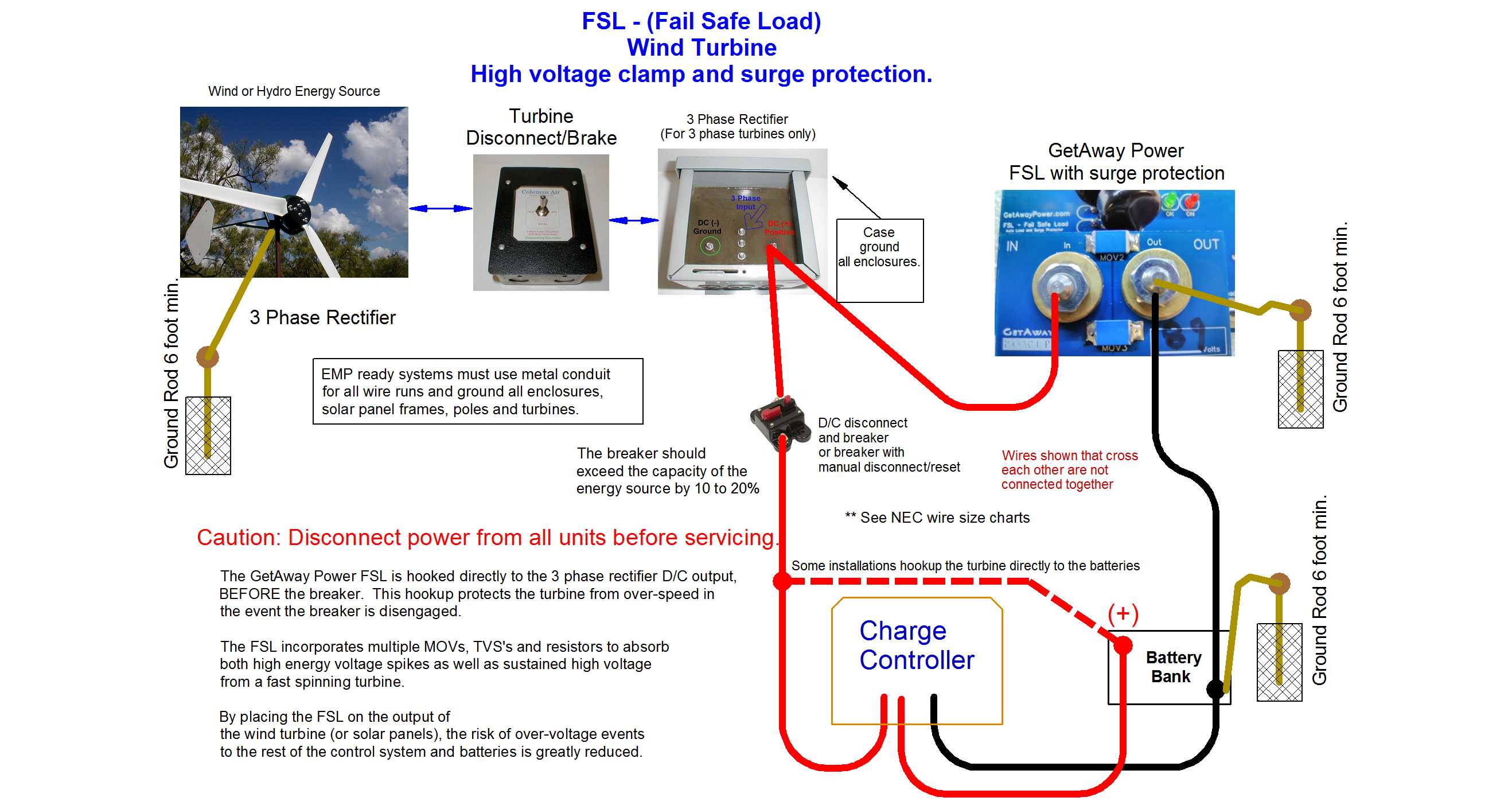 Example hookup for a 3 phase wind turbine
****
Ultra fast surge protection. Typically less than 5ns (5 billionths of a second).
More than 10 MOV's (Metal Oxide Varistors).
Multiple high voltage TVS Diodes (Transient Voltage Suppressors).
More than 4,500 Joules of surge protection.
200 Watts of internal diversion. More can be added externally.
Internal self-resetting fuses help prevent damage due to excess diversion loads.
Voltage clamping at 16, 32, 62 and 89 volts.
Perfect companion to a lithium battery bank to prevent inadvertent over-charge.
Built in lighting arrestor, helps protect against direct and indirect strikes.
EMP Hardened. NEMA 3R, outdoor enclosure.
No jumpers or potentiometers need to be set.
One-year standard warranty against manufacturer defects.
Can be installed on both energy input wiring as well as battery wiring.